Most of January passed us by what with bad weather and one of us either being ill, it was time to see what the allotment was looking like. It was a bit of a soggy affair and had planned to burn a fair bit of the pile of debris we had been left with, so it was rather a challenge. Still we managed to deplete the pile a bit. A lot of moving stuff from one end to the other but slowly and surely we're getting there.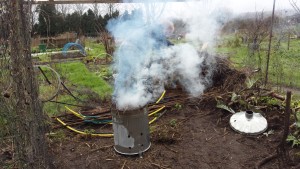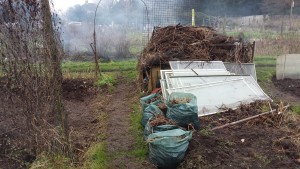 A bit of good news, the potential asparagus snaffler aka, Eddie our allotment manager, disappointedly told us that the asparagus was too established to move. This induced an inner 'yay' dreaming of seductive asparagus for us doused in butter or Hollandaise!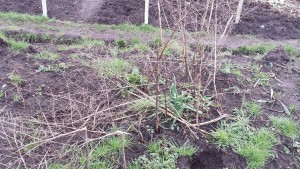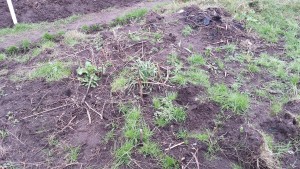 So we chopped down the asparagus with a hope that we'll get a nice little harvest this year.
No allotment is worth it's salt without a compost bin, so we duly ordered one. It arrived. It was a biggy! So instead of driving it round we decided to walk it down to the allotment. It gave The Baron the opportunity to practice his camouflage, not sure that this will enable him to spy on Clem (Fandango) on our next door plot for tips and tricks! His is looking grand, ours still looks like a dumping ground.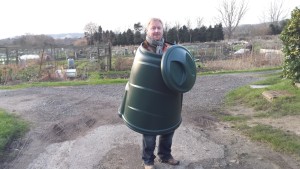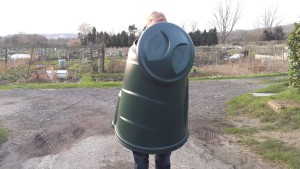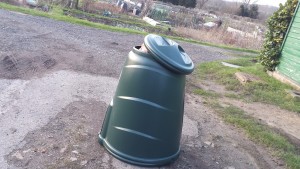 We're so very lucky that the soil we have is beautiful and easy to turn over. The Baron sneaked down to dig over our first bed…yes, we actually have a clear space that we can start to think about planting things in. We also treated ourselves to some herbs so at least there is something growing down there.
We do actually have a lot of established fruit bushes in the cage but we're unsure what they are. There is an inkling that they are a variety of blackcurrants.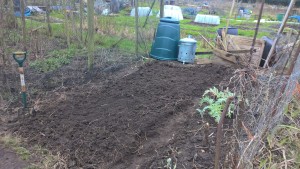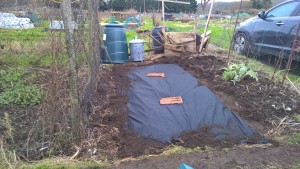 Now for the rest of the mahoosive plot! Another clearing session and we really do feel that we're starting to get somewhere. I think that Harold Steptoe must have had our plot, there's so many random bits of metal, reckon we could make a penny or two out of it!
We discovered a few happy potatoes under a pile of glass and rubbish, burnt some more stuff, moved all the panes of glass, hose and other random items to the other end of the plot ready to dig the next couple of beds.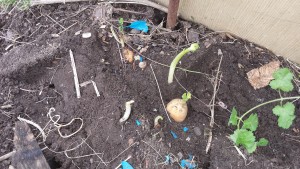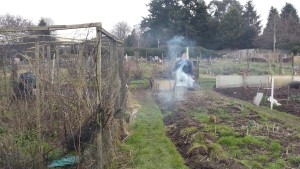 All seems like a mammoth task but we are starting to see a wee chink of light at the end of the tunnel. Next step planning our beds and what we're going to plant…exciting!